The National Human Rights Commission launched a "Journalists for Human Rights" club in 2012 that works to build the capacity of journalists to report on human rights issues and raise public awareness about human rights. The SAM Project will collaborate with the club on human rights and gender issues related to ASM.
Attending a club meeting at the National Human Rights Commission on February 7 were Commission Chair J. Byambadorj, Chief Officer Ch. Altangerel, 27 media representatives, SAM Project representatives U. Batsaikhan, Ts. Tansagmaa and N. Uranchimeg, and ASM National Federation officer R. Tumendemberel.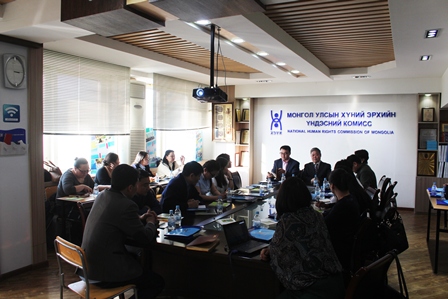 J. Byambadorj detailed the current status of human rights and freedoms in Mongolia, the implementation of UN Human Right Council recommendations and challenges, the role of the media in protecting human rights, and the Commission's interest in working with journalists.
SAM Project representatives provided information on the development of the ASM Knowledge Hub and its operations, the gold supply chain and its formalisation, and Fairmined certification.