After graduating from high school, B. Tsog-Yuren yearned to continue her education but she had to herd livestock while she took care of her grandparents in the countryside. Tsog-Yuren is now the leader of "Delgereh" ASM partnership and a member of the "Eh oron hamtiin huch" NGO (The Nation and Collective Power) in Airag soum, Dornogovi aimag. She married a man from her hometown in 2008 and now has three children.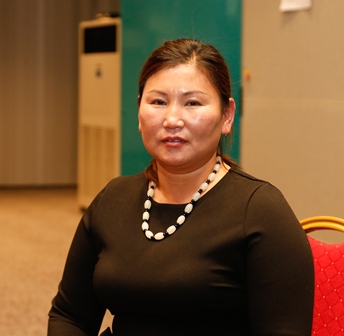 Although they made a living from herding, the arrival of their children prompted a need for more income. At that time, a spar deposit was discovered close to their winter camp, and it soon drew a number of illegal ASM miners. Tsog-Yuren and her husband joined them.
When it came time for her children to attend school, they settled their livestock on another family's farm, bought a home and a car with the money they made mining spar and settled down in the soum centre. In 2006 a dzud struck and they lost all their livestock and found themselves unemployed. With few options, they resumed spar mining in 2008.
Based on their previous experiences, they bought a compressor to ease their workload, which they were able to profit from by renting it to other miners. However, Tsog-Yuren said, "We lost a lot due to our lack of financial knowledge and wisdom in spending money properly".
Mining spar is a hard work, and there were no government agencies or organisations working to protect artisanal miners' rights. In addition, the negative public perception of ASM resulted in many miners being sent away and forced to hide from others. Then a Chinese national killed an artisanal miner, which shocked Mongolians and left many thinking "How can we live when there is no guarantee in our lives?" and "To whom should we address our concerns?" Realising that they must fight for their own rights, they united and formed the "Eh oron hamtiin huch" NGO with L. Lhagva, who worked with them.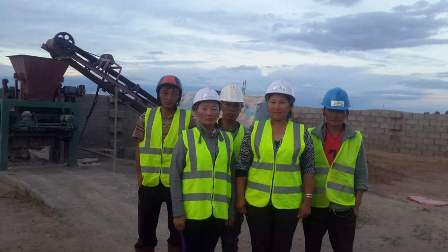 They were looking for ways to make improvements when they learned about SDC's SAM Project, which upholds the rights of ASM miners throughout the country.
Tsog-Yuren said most beneficial were trainings on human rights and project development and implementation, which she continues to benefit from. The human rights trainings made her aware of miners' responsibilities and their rights, and she began paying all the required government taxes. When other members were also enrolled in health and social insurance, they received a Best Taxpayer certificate. It also enabled them to ensure their health was protected and had better access to social welfare services.
The project development and implementation trainings helped them to make significant changes. Based on the knowledge they gained, they developed and implemented a "block plant" after taking out a loan through the Soum Development Fund. They also expanded their operations and prepared a business plan for the implementation of a coloured panels project to secure a SAM Project grant.
In addition to her role as NGO leader, Tsog-Yuren contributes to employment promotion in the soum through the creation of jobs such as running a small welding-apparatus shop, and has collaborated with five other women in making homemade buuz through a Soum Development Fund loan. She also provides regular employment for six people and has enabled five members to buy their own homes and three members to buy vehicles. She also hired a single mother with six children as a cook and guard for the NGO, providing her with a regular income and supplying her with firewood and electricity.
In the early years, the authorities didn't understand and disliked the spar miners, and they were not supported by the local community. Now, however, with SAM Project support in improving the legal framework and the conducting of trainings and activities, attitudes have markedly improved.
Tsog-Yuren became a member of Bagh 1's Citizens' Representative Khural and the head of the association of "Wealth Producers". As a trusted figure, she seeks opportunities for artisanal miners to undertake alternative forms of employment and disseminates ASM information among the local community. She has also shared some of her successful initiatives with the local government, such as connecting businesses and individuals with clients and suppliers, financed through the Soum Development Fund.
As a result of the strong relationship with the local government, she said "We have received an order to build a pedestrian sidewalk and are very busy despite recently establishing the plant". She shared her plan to open a tyre-repair shop and furniture factory based on the block plant. She said the SAM Project trainings taught them the importance of working with "defined goals and plans as a means to achieve".
With support from the SAM Project, Tsog-Yuren has become a role model for women and has achieved much through her hard work and vision. As her success demonstrates, development projects can make changes for individuals, households and society by expanding growth and opportunities.